Compact shelves
Gone is the notion that the bigger a library's collection grows, the more room is needed to store it. The Library's entire serials area was overhauled during the summer and replaced by a new compact storage system in October. The first of its kind installed within the University Libraries, this electric mobile shelving system is expected to accommodate the library's fast-growing collection for many years to come. Thanks are due to library users and faculty members who very patiently put up with the inconvenience during the summer while the Library's serials area was closed for groundwork preparation.
Open access for AV materials
The Library's AV collection of videocassettes, audio tapes and slides is now relocated from closed stacks to the Compact Shelves for better user access and browsing.
+ Check our floor plan for reshuffled collections
---
Featured highlights
Legal Prints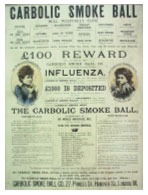 Lawyers and law students may be familiar with the leading case in contract law, Carlill v. Carbolic Smoke Ball Co. (1893) ... but many have not seen the actual advertisement of the famous patent medicine advertisement which sparked the case. Come view a modern replica of the Carbolic Smoke Ball Advertisement in the Library's first floor, along with many other interesting legal prints and original indentures which decorate the Library's walls.
Westlaw Day Re-run
Following our successful launch in April early this year, the new semester's Westlaw Day on 4 & 5 October 2001 proved to be another popular library event for law students. The perfect timing of tying in with assignments and coursework has seen more than 180 students flocking to the Westlaw Corner on the ground floor concourse of K.K. Leung Building. A few new faculty members also took the opportunity to refresh themselves of the use and new features of Westlaw International.